Product Description
Product description
The Shandong Tianhai of High Density Polyethylene (HDPE) is primarily due to its low initial material cost and excellent chemical resistance. This allows thicker sections to be used compared to other geomembrane materials. A thick, durable, HDPE liner can be placed in exposed applications where the cost of other materials may be prohibitive. HDPE has excellent chemical resistance which is often the driving force behind the selection of HDPE. HDPE is a field assembled lining material that cannot be practically fabricated in the shop. All HDPE projects, regardless of size, must be installed by trained installers. HDPE is a versatile material which is used widely across all applications. One of the main uses of HDPE is for landfill base liners where its chemical resistance is used to good effect. HDPE can also be used in a multitude of secondary containments, pond linings, and water containment projects. HDPE is best used as an exposed lining material, and has the UV resistance required for many years of outstanding service.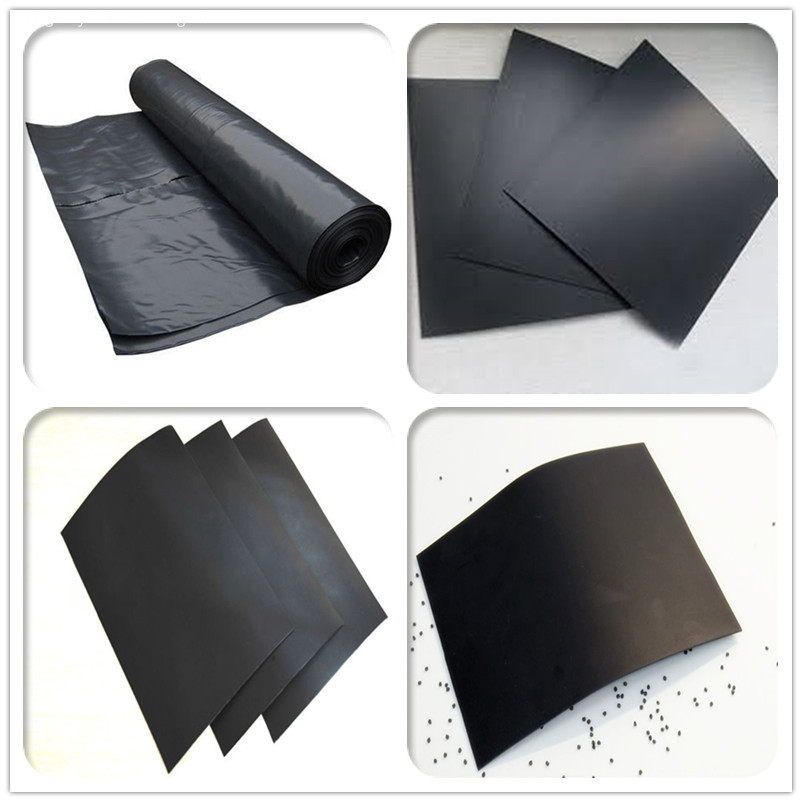 shrimp farming water pond liner with UV
Product

High quality HDPE liner film, HDPE geomembrane

Standard

GM13-smooth

Certifitcation

CE/ISO/BTTG/TRI

Thickness

0.2mm-3.0mm

Technology

Blowing

Width

2m-8m

Material

HDPE/LDPE/LLDPE

Length

50m-100m

Original

China
shrimp farming water pond liner with UV
Smooth HDPE geomembrane-GM13(ASTM) technical data

Properties

Test Method

Test Value

0.75 mm

1.00 mm

1.25 mm

1.50 mm

2.00 mm

2.50 mm

Thickness (min. ave.)· lowest individual of 10 values

D5199

nom -10%

nom -10%

nom -10%

nom -10%

nom -10%

nom -10%

Density (min.)

D 1505/D 792

0.94

0.94

0.94

0.94

0.94

0.94

yield strength

D 6693

11 kN/m

15 kN/m

18 kN/m

22 kN/m

29 kN/m

37 kN/m

break strength

20 kN/m

27 kN/m

33 kN/m

40 kN/m

53 kN/m

67 kN/m

yield elongation

12%

break elongation

700%

Tear Resistance (min. ave.)

D 1004

93 N

125 N

156 N

187 N

249 N

311 N

Puncture Resistance (min. ave.)

D 4833

240 N

320 N

400 N

480 N

640 N

800 N

Stress Crack Resistance (2)

D 5397

300 hr.

Carbon Black Content - %

D 4218

2.0-3.0%

Oxidative Induction Time (OIT) (min. ave.)

(a) Standard OIT

D 3895

100 min.

(b) High Pressure OIT

D 5885

400 min.

Oven Aging at 85°C

(a) Standard OIT (min. ave.) - % retained after 90 days

D 3895

55%

(b) High Pressure OIT (min. ave.) - % retained after 90 days

D 5885

80%

UV Resistance

High Pressure OIT (min. ave.) - % retained after 1600 hrs

D 5885

50%
Packing & Shipping
For geomembrane, in order to avoiding water when shipping on the boat, we specially use a thin layer plast firm to package the geomembane in the side, then white or black woven bags for outside, paper tube inside, easy to install.
Marking our label or as per client request, loading them into container safely at our factory, make all goods arriving clients no damage, keep perfect. They are packed in the woven bags 50m/roll,100m/roll or follow your demand
Shipping: load container directly from our plant by truck, then go to the port, than go your site by sea.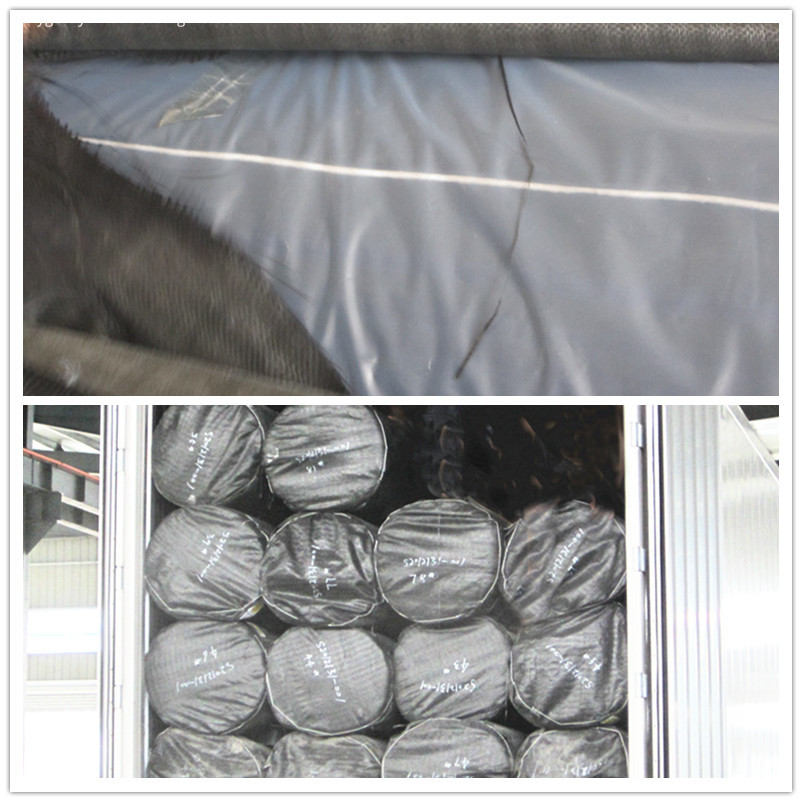 Applications:
Features
Irrigation Ponds, Canals, Reservoirs, & Ditches 1,Excellent physical and mechanical performance

Landfills & Canals 2,

High tearing resistance

Agricultural Applications 3,

Good deformation adaptability

Municipal Applications 4,

High puncture resistance

Aquaculture & Horticulture 5,

High aging resistance

Liners & Covers 6,Good ageing resistance

Landfill Liners, Covers, & Caps 7,long work life

Liquid Containment 8,high and low temperature resistance

Wastewater Lagoon Liners

Mining-Heap Leach & Slag Tailings

Liners for Golf Courses & Decorative Ponds

Potable Water Reservoirs

Tank Linings

Brine & Processed Water Applications

Water & Wastewater Treatment & Containment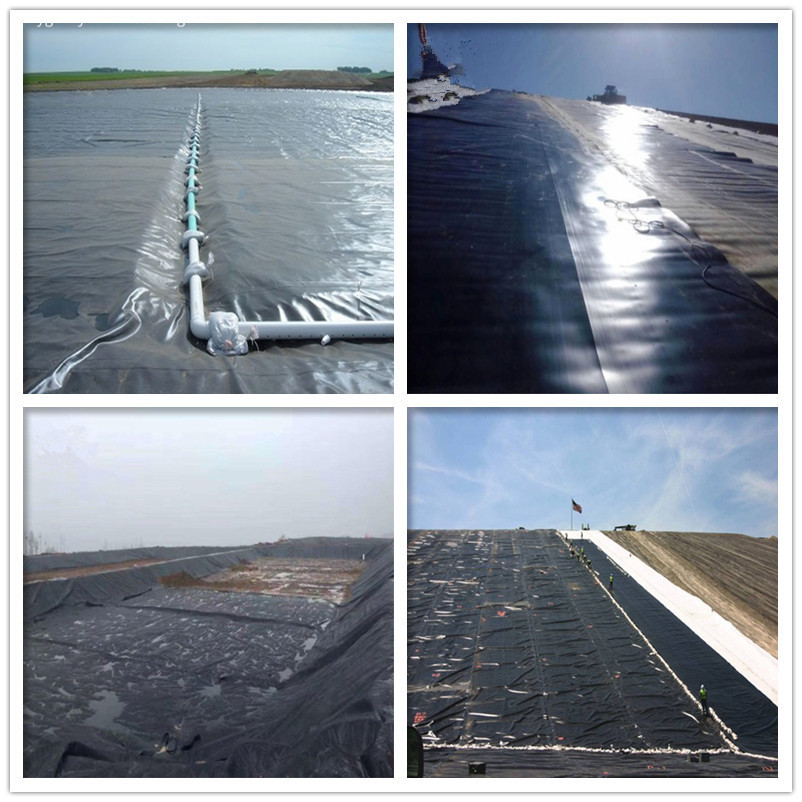 Certifications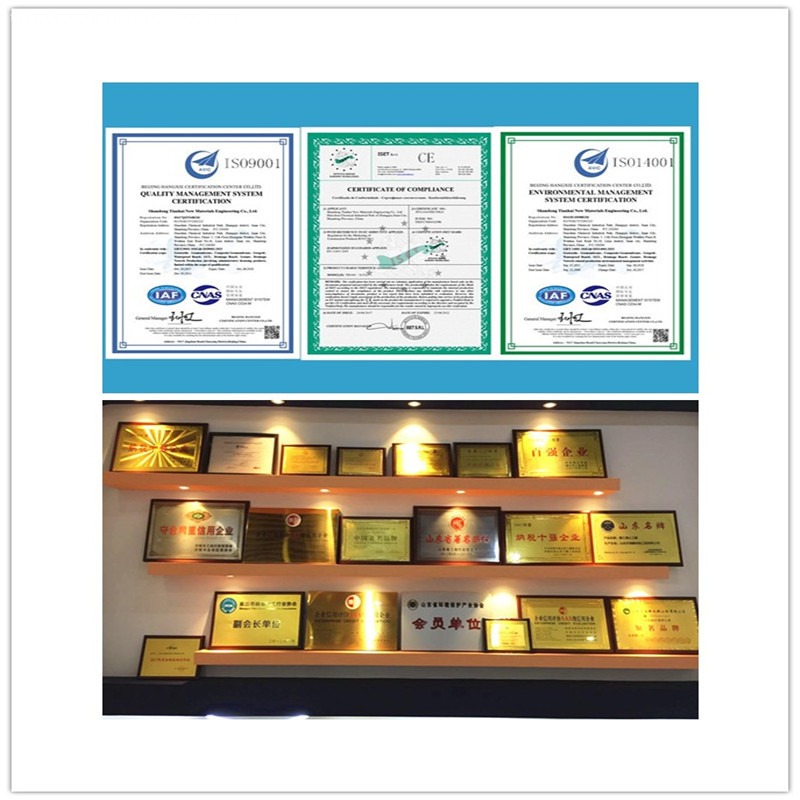 Company Profile
Shandong Tianhai New Materials is a leading manufacturer and marketer of the world geosynthetics lining products and services.
Specialized in HDPE/LDPE/LLDPE smooth and textured geomembrane, geotextile, drainage sheet, drainage composoite, GCL, self-adhesive waterproofing material, geogrid, with superior quality.
ISO9001, ISO14001, GB/T28001, CE certified .We get MSDS report and Special CICC certificate for China railway projects. We are known by USA TRI and England BTTG
Our products had been exported to UK, the Philippines Australia, Italy, Madagascar, Mexico, UZ, Russia,Indonesia,Jordan,Iraq,Afghan,Libya, Sweden, Mongolia, India-
Other Accessories products that you maybe interested in:
Such as 2.0mm welding machine 900, 1.0mm welding machine 800, Welding torch, Satefy Products, Safety helmet, Safety shoes, Falling protection, Eye protection, body protection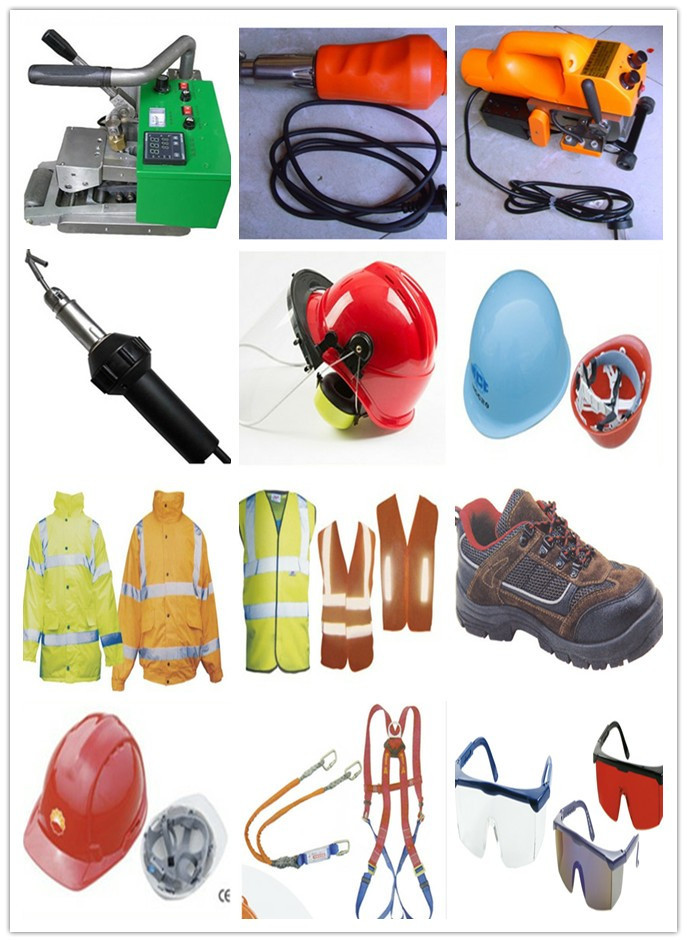 FAQ
1
.Q: What's about your production capacity?
A: We produce 10 x 40ft container per day for geomembrane.
2.Q: How about your delivery time?
A: Within 7-14 days after deposit, we always deliver the goods according to customer's requirement.
3.Q: What's about the minimum order quantity?
A: The MOQ is 5000m2, customer can mix different sizes in one 20GP. We suggest at least 20GP,as by our exporting experience, 20GP container sea freight is more economic.
4.Q: How about quality guarantee of your tires?
A:1) Material Purchase Control. Our Material are imported from Iran and Saudi Arabia. Those country specializing in better raw material.
2) Advanced production equipment, producing ASTM specification data.
4)We could provide you TRI or BTTG test report if you need.
5.Q: Do you have stock?
A: All tires we send to customers are new tires. We don't have any stock to ensure customers use best new tires and new patterns.

6. Q: Terms of payment
A:1). First time cooperation, we can accept 30% TT deposit, the balance should be paid against copy of B/L within 10 days.
2). By irrevocable LC at sight.
7.Q: What certificates do you have?
A: CE, ISO, SGS, TRI, BTTG, MSDS
Shandong Tianhai New Materials produces any kind of geomembrane specifications, if you are interested in ,contact us with no hesitate. We will reply you immediately. Hope we build a flourishing long- lasting business.
Thanks.
Contact me for details